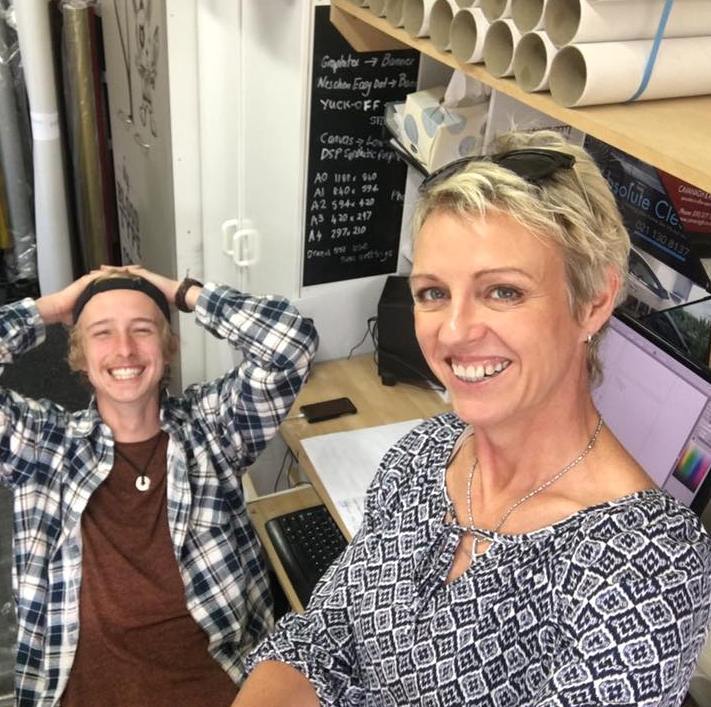 Christine & Alex Petty
Our family run business
Christine Petty
I started Grafix Wall Art in May 2010 after 20 years in Sales and Marketing. We are based here in Auckland, New Zealand.
Having always been into art and design, I finally decided to open my own business creating wall decals. The range has since expanded into canvases, wallpapers, wall murals and car and boat decals. Grafix Wall Art has now grown so much that I employ both my children in the business; Alex – who is in charge of production.( He wasn't so keen to have his photo shown here :-), and Lauren – who has just started her apprenticeship in Digital Print and she helps with design, installations, and our social media content.
Apart from work, I enjoy tramping and cooking.
My golden lab is now 7 years old – we've had her since puppy walking her for the Guide Dog Association. She's a gorgeous girl by the name of Elsie. She missed her calling unfortunately and lucky me – I was able to adopt her permanently. She's a fixture by my feet if you ever come over here to pick up work.
I'm a member of the BNI Connect in Botany networking chapter and enjoy networking with other businesses in the area – always an inspiration when running your own on your own.
Customers often ask where I get my images from. I have a great variety of sources – but first and foremost I design my own using Adobe Illustrator. I also have access to a host of great illustrators who produce hundreds of thousands of images. Whether it be for logo design or bedroom walls there will be an image to suit you somewhere! I favour NZ artists as there is a great trend in local design with Maori influences.
If you would like to see your work made into a decal, then I am happy for you to contact me through my Contacts page or email me at [email protected]
I love hearing the feedback from my happy clients who say the decals and murals have transformed their walls!